2711-K3A5L1
Allen Bradley
2711-K3A5L1
Allen Bradley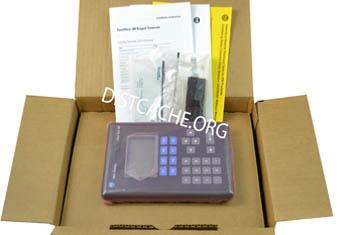 Description
The 2711-K3A5L1 belongs to the Allen-Bradley PanelView Standard Operator Terminals. This terminal has 3-inch display with built-in DH485 for interfacing with DH485 network and an RS232 printer port.
The 2711-K3A5L1 is a PanelView Human Machine Interface (HMI) terminal that belongs to the 2711 PanelView Standard Operator Terminal product family. This HMI device has a Three (3) inch monochrome display with a resolution of 128 x 64. Two (2) built-in communication ports, DH485 and RS232 printer ports that allows connection to DH485 enabled devices and alarm printer respectively. Function keys from F1 to F8 are configurable for global and local assignments. The 2711-K3A5L1 rated power supply input is 24VDC. Using Allen-Bradley communication cables, The 2711-K3A5L1 is capable of exchanging runtime data with Allen-Bradley's PLC5, MicroLogix, SLC500 and Logix family of controllers. The terminal has a runtime application memory of 170KB and 240KB non-volatile memory. Optionally, the terminal's memory can be expanded with the use of an ATA memory card with memory ranging from 2MB to 32 flash memory. Other terminal accessories include antiglare overlays, function key legend inserts, backlight replacements, Real-time clock modules, mounting hardware, Power supply terminal block and interface modules, communication cables and upload / download cables. Configure the terminal runtime graphics and behavior using PanelBuilder32 software. Create process mimic display using the software elements such as Pushbuttons, Selector switches, Screen Selectors, Data Entry objects, Information displays, Alarm diagnostics and a variety of drawing elements ranging from basic shapes, custom graphics, standard ISA symbols and bitmap images. The 2711-K3A5L1 can support maximum of 100 alarm list. This alarm list is stored in the non-volatile memory which can be parameterized in the configuration software for printing through the RS232 printer port. Any IBM enhanced character set printer may be connected to the terminal's printer port. Printing may be initiated by assigning a trigger tag. The terminal may be optionally loaded with interface modules to communicate with other industry standard communication protocol. Optional interface modules include Personal computer interface converter which converts RS-232 signals to/from DH-485 signals, Isolated link coupler for DH-485 network and MicroLogix advanced interface converter module.
Revision Part #:
.pdf
2711-K3A5L1A
2711-K3A5L1B
2711-K3A5L1C
2711-K3A5L1D
2711-K3A5L1E
2711-K3A5L1F
2711-K3A5L1G
2711-K3A5L1H
2711-K3A5L1I
2711-K3A5L1J
2711-K3A5L1K
2711-K3A5L1L
FRN 4.00
FRN 4.10
FRN 4.20
FRN 4.41
FRN 4.46
FRN 4.48
L1
L2
Rev A
Rev B
Rev C
Rev D
Rev E
Rev F
Rev G
Rev H
Rev I
Rev J
Rev K
Rev L
Ser A
Ser B
Ser C
Ser D
Ser E
Ser F
Ser G
Ser H
Ser I
Ser J
Ser K
Ser L
| | |
| --- | --- |
| Part Number | 2711-K3A5L1 |
| Product Line | Panelview 300 |
| Display Size | 3-inch |
| Display Color | Monochromatic |
| Input Type | Keypad Input |
| Communication | DH-485 (RS-232) Port |
| Input Power | 24V Direct Current |
| Software | Panelbuilder 32 |
| Memory | 240 Kilobytes |
| Backlight | Non-Replaceable LED |
| | |
| --- | --- |
| Manufacturer: | Rockwell Automation |
| Brand: | Allen-Bradley |
| Part Number: | 2711-K3A5L1 |
| Product Family: | PanelView Standard Terminals |
| Product Type | Operator Terminals |
| Operator Input: | Keypad |
| Display Type: | Monochrome transflective LCD with LED backlight |
| Display Area: | 73 x 42 mm (2.87 x 1.67 in.) |
| Resolution: | 128 x 64 |
| Keypad function keys: | 8 function keys (F1…F8) |
| Application memory: | 170 KB application runtime; 240 KB nonvolatile memory (application objects plus text and bitmaps) |
| Communication ports: | DH485; RS232 (printer) |
| Input Voltage range: | 18…32V DC (24V DC nom) |
| Dimensions (HxWxD), approx. | 197 x 140 x 82 mm 7.76 x 5.53 x 3.21 in |
Distribution Cache Shipping Info and Options
Shipping Carriers: Here at Distribution Cache we ship using UPS, FedEx, DHL, or TNT. In most cases we get very competitive rates based on our volume and will be happy quote shipping cost to your location upon request. We also know that many customers would prefer to ship collect on their own account numbers and welcome this option.
Shipping Blind: We recognize that many of our customers intend to re-sell the product to their end user. We respect our customer's relationships with their clients and offer blind shipping as an option to ensure that the package arrives in the most clandestine way possible.
Shipping Process: We take pride in the way we package your order and spare no cost in making sure that it arrives safely at your facility. In the case of new parts, we are always sure to package the factory box inside another larger box for safe transit. For reconditioned parts we often use Distribution Cache customized packaging that is specially made to protect the products from the bumps and falls present during shipment.
Shipping Options:
Next Day Air Early AM - This service is the fastest overnight delivery option available. For most locations the package will be guaranteed by 8:30AM.
Next Day Air – This service guarantees delivery by 10:30AM and is the most frequently used option for overnight shipments.
Next Day Air Saver – This cost saving overnight alternative guarantees delivery by 3PM the next day.
2nd Day Air – For domestic shipments that would take 3-5 days if shipped via Ground, sometimes having the order in 2 days is a great way to go
Ground – Ground is the most inexpensive shipping option provided. Please ask if we are doing a "free domestic ground" shipping promotion on your order. We often provide free ground shipping on larger orders.
Emergency Courier – At times we can help work with a courier service to get the part to your facility during downtimes scenarios. We prefer that the customer sets up the courier but we can be there to make sure the product is handed off to the driver. Please give us a call to see if this is an option on your order.
Please Note: Products listed as "ships today" can ship same-day if an order is placed before 4PM. For larger drives and motors we ask that notification for same-day shipments be provided by 2PM at the latest. For any products listed as "ships in 3-5 days", please give us a call to see if this can be expedited.